I started this company in 2004 after getting requests from friends to help with their weddings, parties, etc…. I purposely kept the company pretty private & small due to the fact I run another company with my husband since 1988. http://www.extractaway.com
Since I was a little girl gathering flowers in Louisiana with my grandmother, I seemed to have a knack with flowers.  My love of them makes it easy to be happy & pour lots of love into each & every arrangement I make.
It has been my Mission to help service my clients & friends to the best of my ability. I want them to be happy with what I do & then feel comfortable & happy in referring me to their friends, family, coworkers, etc…
As with all florists, I do all types of arrangements from Everyday Flowers / Thank You /  Get Well /  Special Occasions & Events. I will deliver to hospitals, care centers, offices, homes, schools, etc…  Please call or email me & ask any questions you have.
Kelly: 503 640-6311
While I don't have a price list right now, I do price within the local average.  I try to show prices on my pictures to give you an idea of what these sold for. Click on one to open then use the arrows to see them all with info. All arrangements I make are not textbook cookie cutter type but rather a one-of-a-kind arrangement – just for you!
BULK FLOWERS – I am now offering my clients bulk flower purchasing if you have a project or function you need large quantities for. With over 2 acres of flowers & over 8 suppliers we have much ground to cover & many flowers to choose from!
I need 2 weeks notice to make sure we get all you need. I charge for my time to order, pick up & delivery.  Min charge is 3 hours for $75. Then $20 per hr. after that. This includes flower food for the water but not prepping of flowers or containers. 
Any addt. prepping of flowers is a per hour rate.

 
My general pricing – I do have a min. of $50 for flower or plant arrangements. Vases are $3 & up. Usually you get 16-24 stems OR more depending on the style. Shop local ! You get more for your money & fresher too! Since I don't have a storefront, you won't get the old leftover flowers from last weeks orders! 
I deliver local (within 2 miles) for FREE / (3-6 miles radius from me) for $5.  Then an addt. .50 per mile. NEW CLIENTS – FREE DELIVERY!   Large events are individually quoted as sometimes 2 trips may be needed. / Pdx Metro area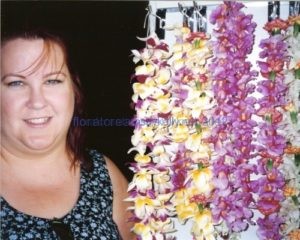 This official website is owned and operated by Kelly Willis.
All content of this web site is property of Kelly & may not be copied.